Hey friends! Over the weekend, it was HOT! I'm talking in the 90s. My friends and I went to the lake for a beach day and decided to show you our summer essentials. I've been using all of these things like crazy and I wanted to share them with you!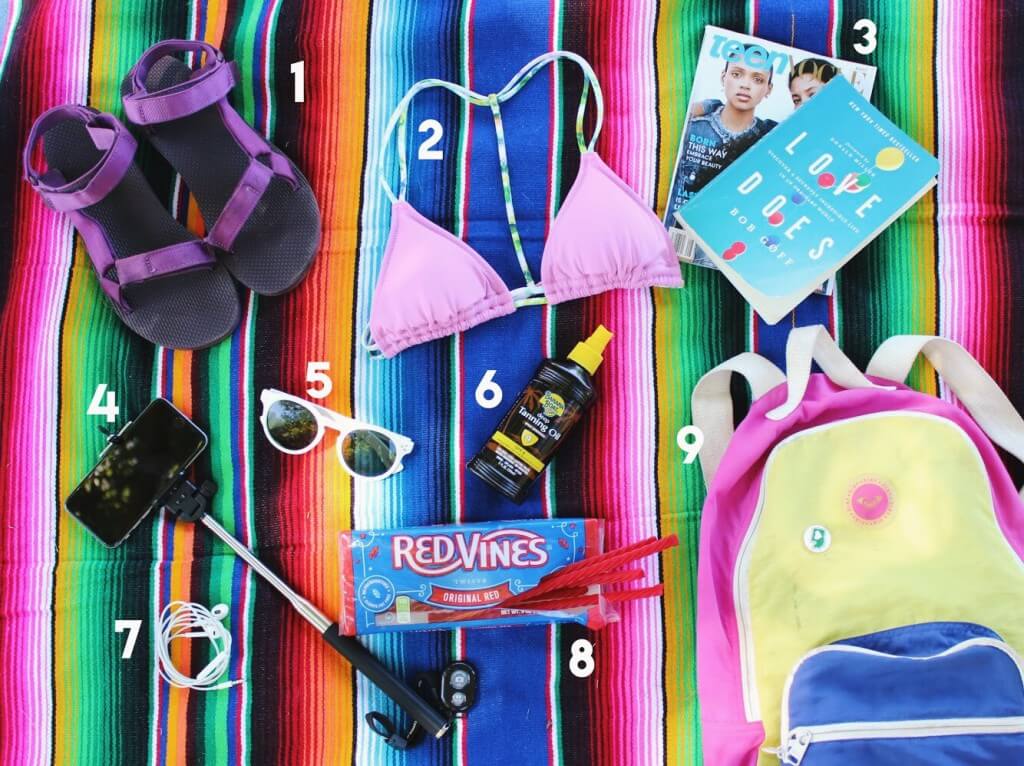 #1: Tevas
Sandals are a must in the summer, so why not go old fashioned and get some Tevas?! Sarah and I have been wearing them non-stop and our nail polish even matches them, haha I swear we didn't plan it.
#2: Swimsuits
Swimsuits are an obvious must for every summer. I can admit that I am a swimsuit addict however, I will never settle to buy one full price. My tips for buying cheap swimsuits is 1, always look in the sale/ clearance first, and 2, search for coupons online! Also I will shamefully admit to couponing… Anyway, back to swimsuits- they're hands down a necessity for summer and not to mention how cute they are.
#3: Books/ Magazines
I may not be much of a reader but when laying by the pool/ lake it's a good idea to have a book or magazine near by. Also you can get that summer reading done… says a girl who doesn't even know what book she has to read (me). hah
#4: Selfie Stick
Yep, a selfie stick. Contrary to popular belief, they aren't only for tourists, or dads. They are so convenient! We can finally fit all 10 people in 1 selfie- revolutionary.
#5: Sunglasses
Like the swimsuits, this is an obvious one. I found these ones at Pacsun (there's a buy one get one free sale!!) and I love them! Along with many other pairs, these have been a must have this summer.
#6: Tanning Oil/ Sunscreen
While lounging in the sun, you don't want to get burnt (or stay pale). Sunscreen/ tanning oil is a necessity for me. First I put on spf 30 or 50 and then I switch between oil/ sunscreen! It's a great rotation as long as your frequently applying spf 30-50!
#7: Music
Music is one of my favorite parts about summer! Blasting it in the car with the windows rolled down has to be one of the best feelings. Also, my friend Kenzie just started a Music/ lifestyle blog! My friends and I made a summer playlist that Kenzie is going to release on her blog soon! It would mean so much to me if you checked out and supported her blog! I'm so happy for her and excited to see where it takes her!
http://www.keepinupwithkenz.com/
#8: Candy/ Snacks
Whenever my friends and I go to the beach we always make sure to bring snacks with us. But let's be honest, it usually consists of candy.
#9: Backpack/ Beach Bag
Last but not least, a beach bag to put everything in. I'm in love with Sarah's Roxy backpack! It's the perfect size for going to the beach and packing all the essentials.