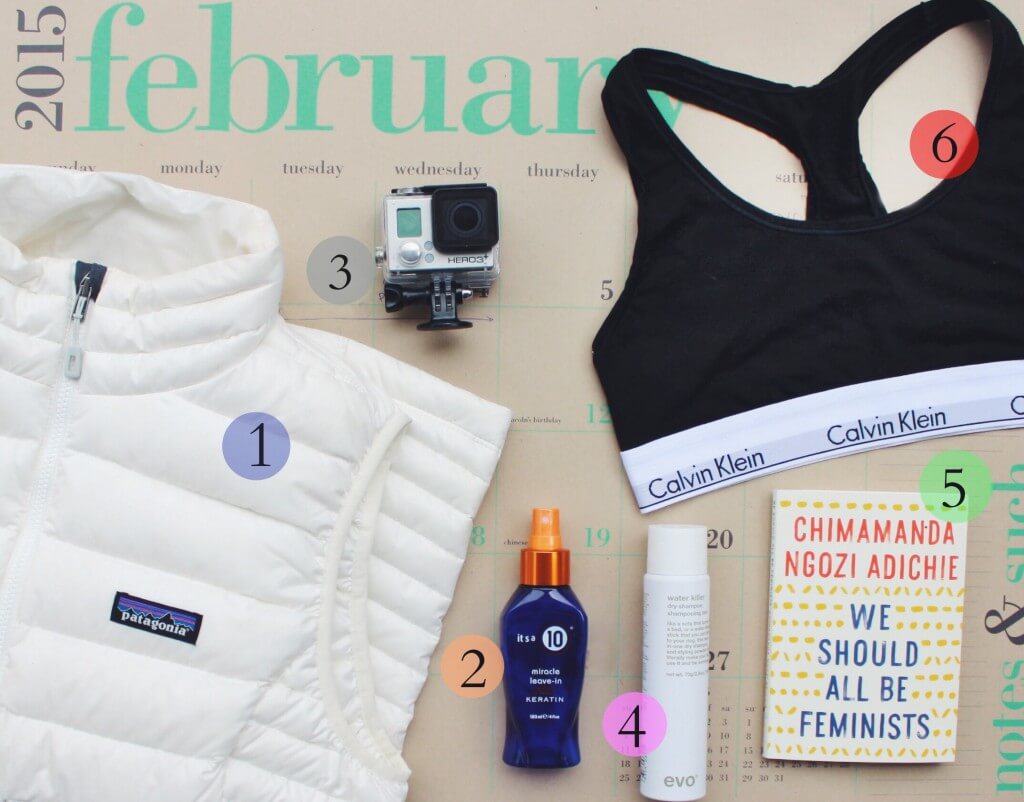 Hello again! I'm here with my February Favorites. I've been using these items like crazy and had to share my love of them with you.
I have nothing but positive reviews for this vest! Patagonia is a great brand and uses cruelty-free down material. I picked it up at REI recently and I've been in love ever since. The color is perfect because I can wear it in the Winter and Spring. Also, the good news is that I can finally stay warm without wearing my mom's parka.
Everything about this leave-in conditioner is great. It smells wonderful and it treats your hair in ten different ways. Some of these include, detangles, prevents split ends, stops hair breakage, and protects from heat tools. All in all, this product is a definite 10.
This GoPro has been one of my favorites this month because recently I've been hiking a lot. I love taking this hiking because it's very small and portable, also it takes sweet pictures and videos. It's the perfect camera if you're adventurous or enjoy shooting action shots.
4. Evo Water Killer Dry Shampoo
This product is a life saver. If you ever have second day hair this dry shampoo will save your butt. All you do is spray it in the roots of your hair and then sort of massage it into your hair. It gives you great volume, takes away the greasy look, and makes your hair smell amazing.
Chimamanda expresses why she believes feminism is important for all of us, both women and men. She did a TED talk in 2013 called  "We Should All Be Feminists" and she also wrote this essay about the same topic. She is an excellent writer and I highly recommend reading this short book!
Last but certainly not least, is my beloved Calvin Klein sports bra. These have been very popular this past year and now I know why. They're incredibly comfortable. I don't wear this to workout in but it's best for lazy days or on the weekends. Overall, this has been one of my all time favorites this month.
Thanks for reading & be sure to follow me on BlogLovin!
 xoxo, Grace